​Every pilot will tell you the Cessna 206 is the most capable six-place, high-wing airplane in the world. They will also tell you the 206's piston engine limits its ability to fulfill its performance potential.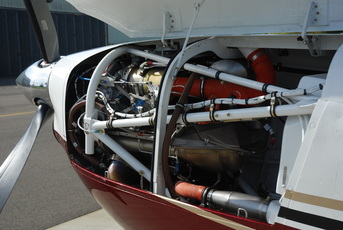 ​That all changed in 1985 when Soloy Aviation Solutions created the Mark I conversion program that changed-out the 206's Continental TIO-520 for a new Rolls-Royce/Allison 250 turboshaft engine. By offering better performance, safety and value, the Mark I delivered everything 206 pilot/operators were looking for.

Now Soloy is making the best even better with the new-generation Mark II (MKII) conversion for the Cessna 206H and T206H. Among the MKII's many advancements is the upgraded 450 SHP, Rolls-Royce 250-B17/F2 engine/gearbox, a selection of Soloy developed and STC'd modifications, state of the art avionics and much more.

Soloy's Mark II is not your 'typical' bolt-on conversion. From the aerodynamically clean cowling to the new engine mounts to the latest electrical system components, every detail of the conversion is created using the latest in computer-aided design and manufacturing techniques so the MKII stands up to the harsh, off-airport and on-water operations its owner/pilots demand. The OEM would be proud.
---
The Perfect Balance of Size, Performance and Value
Whether you're flying for business or pleasure, operating from land or water, upgrading to the new Soloy MKII conversion will give you a lot more of what you need – payload and performance. You'll have a lot more power – 150 shaft additional horsepower and 170 pounds lighter – and that translates into better overall performance, shorter runways with much longer TBO's. In addition, you will be burning Jet A so there's no worries about the availability and often higher cost of 100LL fuel. Plus, you're covered the world over by Rolls-Royce's global support network.

​If you currently own a Cessna 206H or T206H or are looking for the ultimate six-place, high-wing single on wheels, on floats or on duty, your best overall choice is Soloy's unequalled MKII conversion.
---
FAA Certified
MKII Turbine 206
specifications
Powerplant Rolls-Royce 250-B17F,

417 shp Recommended TBO

3,500 hrs

Length

30 ft 4 in

Height

10 ft 2 in

Wingspan

36 ft

Wing area

174 sq ft

Power loading

8.6 lb/shp

Basic empty weight

2,140 lb

Max ramp weight

3,617 lb

Max takeoff weight

3,600 lb

Max useful load,

1,477 lb

Payload w/ full fuel

894 lb

Fuel Capacity, std

87 gal/583 lb
Performance
3600 LBS. SEA LEVEL 15˚C
Takeoff distance, ground roll

705 ft

Takeoff distance over 50-ft obstacle

1,190 ft

Rate of climb, sea level

1,635 fpm

Cruise speed/range w/IFR fuel rsv, std fuel (fuel consumption)

@ Max power setting, 18,000 ft

185 ktas kt/548 nm (165 pph, 25 gph)

@ Max range setting, 18,000 ft

146 kt/550 nm (117 pph/17.5 gph)

Max operating altitude

20,000 ft

Landing distance over 50-ft obstacle

2,085 ft

Landing distance, ground roll

620 ft
Limiting and recommended airspeeds
VX (best angle of climb)

70 KIAS

VY (best rate of climb)

87 KIAS

VA (design maneuvering)

125 KIAS

VFE (max flap extended)

140 KIAS

VMO (max operating speed)

150 KIAS

VS1 (stall, clean)

55 KIAS

VSO (stall, in landing configuration)

42 KIAS