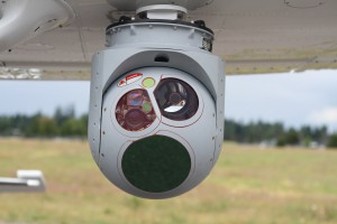 Introducing the Soloy MKII Sentinel. Developed specifically to meet the needs of law enforcement and government agencies, the Sentinel can do practically any surveillance mission currently performed by a helicopter at about one-third the price to buy and operate.

The Sentinel has a long list of Soloy STC'd special features including a fully-articulated Observer's Seat, large left side window, wingmounted camera mount capable of attaching virtually all cameras up to 18" and 100 lbs., 200 amp generator and more.

With a typical speed of 175+ knots and a fuel-efficient Rolls-Royce engine, the Sentinel can get on station faster and loiter longer than any conventional helicopter. Plus, with its available five-blade composite propeller, the Sentinel is practically undetectable at altitude.
---
Soloy's MKII Sentinel: Law Enforcement Optional STC's.
Soloy's MKII Sentinel package offers an array of optional STC'd upgrades tailored to meet the needs of today's law-enforcement agencies.
Universal, STC'd wing-located camera mount

Fully articulated observer seat

Oversized, left side observation window

Re-contoured headliner for additional headroom w/four point crew harnesses

MT 5-blade composite propeller option

Observer's station avionics integration mounting platform